Artist / Mother / Widow
I create black and white fine art photos and mixed media artworks with themes of love, loss, family and the legacy we leave behind.
I have been fortunate to have a group of women who supported me on my journey. Many of these women belong to the Athena Village. I am sharing my story in the Athena Village 30 women / 30 stories community project this month. Read about this inspiring group of women here. > 
---
No one is truly gone as the ripples they made in this world continue on forever.
It is universal …  we will all lose someone we love. And this year — the year of the pandemic — has been no exception. If anything it has amplified our losses even more. Yes, the grief and loss are left behind; but also so are the gifts our loved ones leave behind. The lessons learned that will never leave you. The memories and the love that will linger. Those gifts are what I want to focus on. 
In this midst of this past year, during a pandemic I was determined to get my personal passion project completed. I was going to print a set of black and white photographs of Ireland. The negatives were taken by my late husband on our last trip to Ireland. But he never got to print them. 
I love these black and white photos, because first they are from Barry Hendrickson, my husband. They hold great meaning to me because I'm passionate about honoring my Irish heritage, and these images relay that lifelong love of Ireland. They show the haunting beauty of Ireland with its' rich and tragic past.  It parallels my own past with universal themes of love, loss and legacy. 
It's been quite a journey…. So let's back up a bit.
Barry Hendrickson was a handsome, energetic commercial photographer when I met him. We were together over 13 years. We ended up working side by side on a fine art photo business that was focused on Ireland — the land of our ancestors. We were married and had a daughter. She was one and a half years old when Barry was diagnosed with pancreatic cancer. This lead to a tumultuous time of working, traveling and selling photos nationwide and interspersed with ailments, cancer treatments and doctors appointments. After three years and four months, Barry succumbed to cancer. 
Our fine art photo business selling Irish landscapes was booming, and here I was a widow with a 4 year old daughter. The "Ireland in Black & White" photography was our livelihood and main source of income. It was too difficult emotionally and physically for me alone to do all the traveling and work by myself. I knew I had to pivot and figure something new. So I looked back to my graphic design skills and became a web designer. My business of graphic and web design has sustained my daughter and I. 
But the images from our last trip to Ireland were never made … Barry was too sick and life too chaotic for those last three years. These images, those pieces — parts of the land of our ancestors, taken by Barry had stayed with me. I wanted to get those prints brought to life. 
So eight years after his death, I started this passion project. I was going to print b/w images from our last trip to Ireland together. I had learned the process of black and white printing while Barry and I worked together. I love working through the black and white print process to create emotion and depth. I personally print each carbon pigment print with the utmost attention to detail and drama. It's a gift to be able to print from Barry's photo archives. It's a release and joy for me. They bring my connection to my Irish heritage and Barry to life.
I am learning to share my widow's journey.  At times, I find myself hiding from a monumental grief, because my sharing my story can make others uncomfortable. But I've found the courage to show others that my grief is part of who I am. It is just me and my story. Because this is love and what love and loss looks like.

Back to 2020, in the midst of the pandemic, I completed ten black and white prints and labeled them the 'Legacy Series.' It seems fitting because I am inspired by the love of my ancestral homeland. And the love for my late husband and photographer, Barry Hendrickson. These  emotive Irish landscape photographs reflect universal themes of love, loss, family and the legacy that is left behind.
My plans for an in-person show were canceled due to the pandemic. So I did a release of the fine art photos on my Hendrickson Fine Art Photography website. I shared this with my friends,  fans and collectors through email and social media. I received great feedback and response, and some sales as well. It was a bittersweet accomplishment.
Rest in peace ~
In loving memory of all who have gone before.
Including my dear husband, my father and all of my ancestors.
________
How can people find me:
Reach out to me. I'd love to hear if you have a moving story from someone you lost. How you continue to honor and remember them.  Perhaps you enjoy black and white photography or have an interested in Ireland. I'd love to connect>.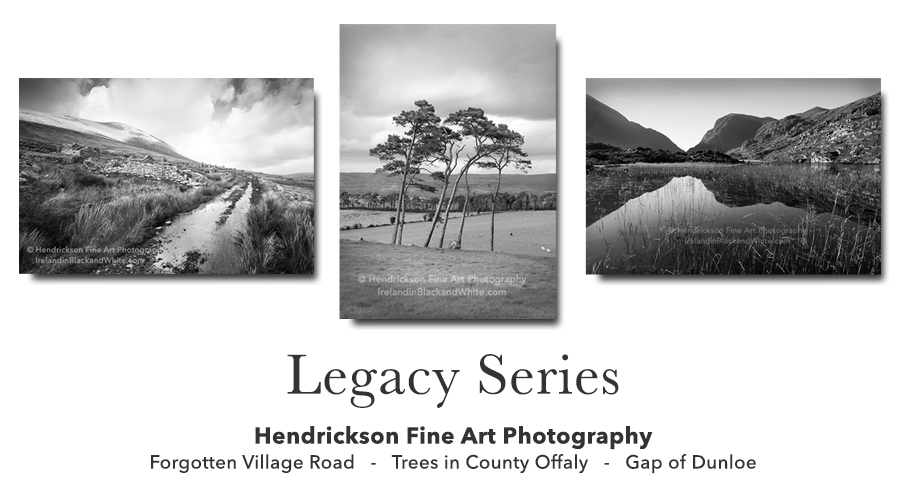 See the Legacy Series by Hendrickson Fine Art Photography here.> 
Or find me in the Athena Village.
The Athena Village 30|30 project is one way we can remind ourselves–and others–there is no one-size-fits-all path through life. Connection and community are ways we all can move through this uncertain, historical time with compassion, kindness, empathy, fierceness and love.
Instagram: @irelandinblackandwhite 
https://irelandinblackandwhite.com/wp-content/uploads/2021/05/Nancy_BarryInFrame-700x300-1.jpg
300
700
NancyH
https://irelandinblackandwhite.com/wp-content/uploads/2016/10/Hendrickson-Fine-Art-Logo2Blk.png
NancyH
2021-05-11 18:29:15
2022-09-14 21:44:16
Meet Nancy Wojack Hendrickson